Toledo Edison
The Toledo Edison Company is a descendant of Toledo's early streetcar and electric companies that served the metropolitan area as far back as 1881. Toledo Edison itself began supplying electricity to the city in November, 1921 and quickly expanded to serve most of northwest Ohio.
As part of Ohio electric deregulation in 1999, Toledo Edison sold off its generation and retail businesses to focus on maintaining the transformers, substations, the poles and wires throughout its service territory to deliver electricity reliably and safely to all of its customers, no matter who supplies that electricity.
Today, Toledo Edison is part of the FirstEnergy family of companies that generate, supply, and deliver energy to customers in customers in Pennsylvania, Maryland, Virginia, West Virginia, and Ohio.
Toledo Edison Service Territory
(A FirstEnergy Company)
6099 Angola Rd, Holland, OH 43528
Customer Service: 1-800-447-3333
Toledo Edison services 300,000 customers living in the following counties in northwestern Ohio:
| | | | | |
| --- | --- | --- | --- | --- |
| Defiance | Fulton | Henry | Lucas | Ottawa |
| Putnam | Sandusky | Seneca | Williams | Wood |
Toledo Edison serves these cities in northwestern Ohio:
| | | | | |
| --- | --- | --- | --- | --- |
| Archbold | Bryan | Delta | Toledo | Wauseon |
Shop for Toledo Edison electricity suppliers in your area.
Fixed Rate
12 Months
12 Month Home Power Plan
5.49¢ / kwh
Rate:
Term Length:
12 months
Early Termination Fee:
$25
Monthly Recurring Charge:
$0.00
Important Documents:
Info
Fixed Rate
36 Months
Safe Harbor 36
5.79¢ / kwh
Rate:
Term Length:
36 months
Early Termination Fee:
$0.00
Monthly Recurring Charge:
$0.00
Important Documents:
Info
Fixed Rate
12 Months
Premier Pick 12 Month
4.89¢ / kwh
Rate:
Term Length:
12 months
Early Termination Fee:
$100
Monthly Recurring Charge:
$0.00
Info
Compare Toledo Edison Electricity Rates
You have 3 residential electricity service options in the Toledo Edison service area:
Aggregation: Some municipal utilities purchase power for local residents. In most cases. residents need to pay an opt-out fee if they don't want their electricity service to be aggregated. PUCO has an interactive aggregation map that shows which parts of the Toledo Edison service area have aggregated electricity service.


Price to Compare (PTC): is the default rate for electricity Toledo Edison supplies without mark up to customers who do not choose a retail supplier. Toledo Edison no longer generates electricity. Instead, each year the company holds electricity supply auctions where generators bid to provide electricity to Toledo Edison customers at the lowest price. The Public Utility Commission of Ohio (PUCO) must approve these rates.


Energy Choice: Choose your own retail electricity provider. There are many different providers in the Toledo Edison service area, offering a huge variety of plans at competitive rates. Residents can shop around to find the best deal that best suits for their needs.
Fixed Rate
12 Months
12 Month Home Power Plan
5.49¢ / kwh
Rate:
Term Length:
12 months
Early Termination Fee:
$25
Monthly Recurring Charge:
$0.00
Important Documents:
Info
Fixed Rate
36 Months
Safe Harbor 36
5.79¢ / kwh
Rate:
Term Length:
36 months
Early Termination Fee:
$0.00
Monthly Recurring Charge:
$0.00
Important Documents:
Info
Fixed Rate
12 Months
Premier Pick 12 Month
4.89¢ / kwh
Rate:
Term Length:
12 months
Early Termination Fee:
$100
Monthly Recurring Charge:
$0.00
Info
How to Start New Toledo Edison Service
Starting electricity service is fast and easy. Just visit the Toledo Edison web site and simply fill in the online Start Service form.
Start requests take at least 2 days to process. If your service is delayed longer than 2 days, Toledo Edison is required to to provide reasons in writing.
Customers should call the Toledo Edison Contact Center if they need their service turned on sooner.
Be ready to supply:
Service Address: The address where you want your service turned on or switched.
The start date for electricity service.
Personal Information: You will need your name, phone number, email address, and your Social Security Number. These will be required.
Unfrozen Credit: If you have frozen your credit with any of the major credit agencies, you will need to have it temporarily unfrozen. Toledo Edison will do a soft credit check to determine if a deposit is required.
Will I Need to Pay a Deposit?
Ohio utilities check your credit worthiness before setting up an account and to determine whether you will need to pay a deposit. To qualify, you'll need to provide the utility one of the following:
Have a prior account within the last two years with no more than two late payments or with no previous service disconnected within the last twelve months.
Be a credit-worthy property owner. It helps to know your credit score ahead of time.
Have a guarantor who is a customer with the utility company and can pay your bills within 60 days if you fail to do so
Ohio utility deposits can be no more the customer's estimated average 30-day bill plus 30%.
What is the Toledo Edison Price to Compare?
Toledo Edison's Price to Compare (PTC) is a PUCO-approved default rate for the electricity generation supply that you can select if you don't want to shop for retail supplier. The rate is a pass-through and represents the actual price Toledo Edison pays for the electricity.
Because rates are determined during periodic auctions, Toledo Edison's PTC only lasts for a few months. That means it can vary seasonally, low some months then higher the next.
How Do I Choose the Best Rate?
Toledo Edison customers can use the Price to Compare (PTC) to compare electricity prices against offers by certified retail suppliers. This makes it easier for you to judge which are the cheapest rates.
Toledo Edison Current PTC Rate
Residential: ((utility_rate|commodity=e|places=3)) cents per kWh
Expiration date: ((utility_rate|commodity=e|show=rate_end))
Energy Choice
Toledo Edison customers are free to choose to a state certified retail electricity supplier. Retail supplier rates are not controlled by PUCO. Rather retail suppliers compete with each on the wholesale electricity markets to offer the lowest prices to customers.
Shopping for the right electricity plan with the right rate should be an easy and straightforward process. But not everyone has the same needs. That's why retail electricity suppliers in Ohio offer two types of plans:
Fixed Electricity Rates are just plans where the price rate for the electricity doesn't change over the term of the contract. Different retail suppliers offer term plans from 6 to 36 months, meaning customers can count on stability and predictable monthly bills for months or years, depending on their preferences. However, early cancellation fees for breaking a contract will apply.
Variable Rates Don't want to commit to an electricity plan for months or years? You can choose a variable plan. Variable plan rates on these contracts can change from month to month depending on the price of electricity. So your rate could go up one month or down the next. However, these plans don't have any termination fees and this allows customers the flexibility to shop for new rates and switch to better deals without paying any penalty.
Understand Your Toledo Edison Electric Usage
While your electricity usage habits are unique to you, PUCO estimates that electricity customers in northwest Ohio tend to use an average of about 750 kWh per month.
Nearly one-fourth (24.3%) of Ohio homes use electricity for space heating.
60% of homes in the East North Central region of the U.S. have air conditioning. In Ohio, residents use an average of 6% to 12% of their total annual energy costs for air conditioning.
The remainder of energy use goes to refrigeration, lighting, electronics, clothes dryers, and small appliances.
Toledo Edison customers can request up to 24 months of their electric usage plus other relevant information free of charge.
Understand Toledo Edison Charges
Your electric bill is composed of the Electricity Supply Charges and the Distribution Charges.
Electricity Supply Charges: This is the cost (in cents per kWh) for the electricity supplied in kWh by Toledo Edison or a retail supplier. Energy Choice charges from "alternative" or retail suppliers are listed under "Charges from Electric Generation Supplier".


Distribution Charges: This charge consists of a flat customer charge per account and a distribution charge in cents per kWh for delivering electricity across Toledo Edison's local grid to a customer's home. All Toledo Edison's customers pay the same rate no matter who supplies their electricity. PUCO regulates Toledo Edison's distribution charges and these rates usually last several years before being reviewed by PUCO. Different Ohio utilities have different rates but basically they consist of a customer charge and a usage-rate charge.
Assuming the average Ohio monthly usage rate of 750 kWh, an average Toledo Edison PTC bill roughly breaks down like this:
| | | | | |
| --- | --- | --- | --- | --- |
| | Electricity Supply Usage | Rate per kWh | Monthly Customer Charge | Total |
| PTC Supply Rate | 750 kWh | ((utility_rate|commodity=e|places=3)) cents | 0 | $((utility_rate|commodity=e|multiplier=750|places=2)) |
| Monthly Distribution Charges | 750 kWh | $0.035595 | $4.00 | $30.69 |
| Total Bill | | | | $((utility_rate|commodity=e|multiplier=750|adder=30.69|places=2)) |
Toledo Edison Energy Choice Plans
((designer|plan_cards|limit=3))
Understanding Your Toledo Edison Bill
Your Toledo Edison bill also comes packed full of useful information to help you better understand your usage and rate. But all these different line items that can be confusing to customers. Here is where we break down the most important items. Below is a sample Toledo Edison Electricity bill.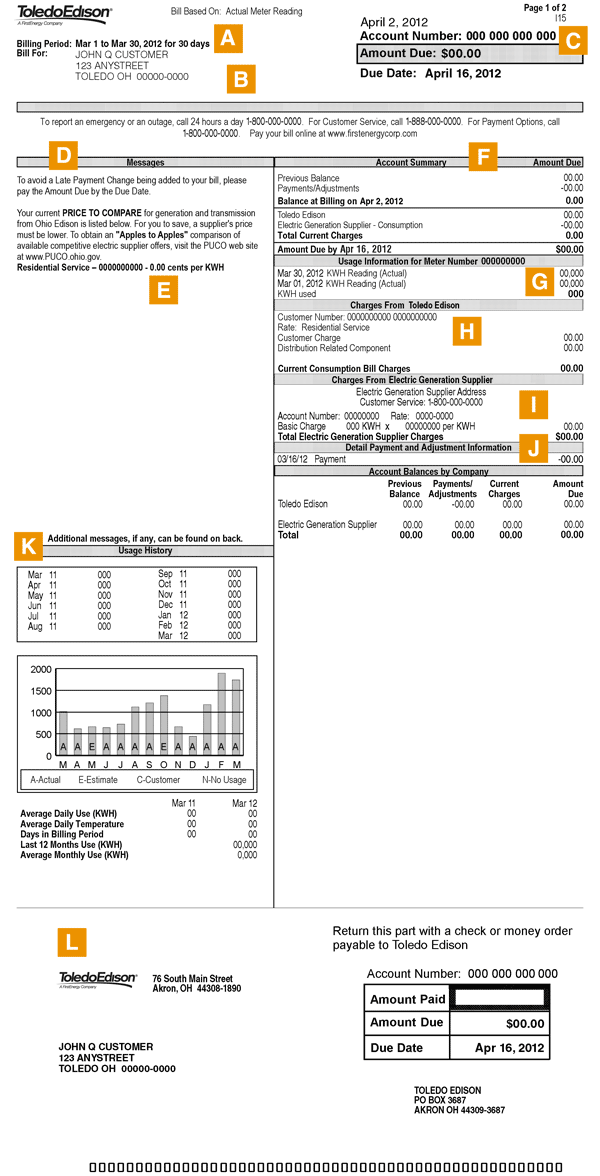 A, B, & C: Bill Overview. It includes your address and personal account number with Toledo Edison, the billing period, the amount due, and the date that the bill is due.
D & E: Messages and current PTC rate. Here you find important notifications from Toledo Edison as well as current Price to Compare rate offered by Toledo Edison.
F: Account Summary shows the amounts of any unpaid balances, current Toledo Edison distribution charges, current supply charges, the total bill and the due date.
G: Meter Summary: This shows the usage information measured by the electric meter at your address.
H: Charges from Toledo Edison include the type of rate you are being charged, the monthly customer charge, the distribution charges, and the total.
I: Charges from Electric Generation Supplier show the name and address of your electricity supplier, their base rate charged, and the total supplier charges due.
J: Account Balances by Company lays out the amounts that have been paid or are owed to Toledo Edison and your supplier.
K: Shows your usage history per bill over the course of the past year to help you compare your energy use over time and understand trends.
L: Payment Stub. Just detach and return with your payment. It also includes your account number, amount paid, amount due, and the due date.

((recommended|DOMAIN_STATE-main-recommended))

How do I get the Cheapest Toledo Edison Rate?
Though it can seem bewildering at first, shopping for a new electricity plan in Ohio is an easy and straightforward process. To begin, there are 3 things you should have with you when you shop for electricity:
Your current bill. Your past usage per billing period can help you estimate a how much a plan might cost you each month.
The current Toledo Edison PTC rate and expiration date. You can use the Toledo Edison PTC to quickly compare retail supplier offers to shop for a better electricity rate. You can choose the PTC rate but remember that changes seasonally.
Your utility account number. This is found on your current utility bill. You'll need to know this number when you choose a plan and sign up for it.
Other important things to know:
Who bills me? Toledo Edison sends a single bill that outline and add up your monthly charges.
What are the Terms of Service? The Terms of Service explain and identify specific charges and any fees a customer will face when they sign up for an electricity plan. Many suppliers offer different rates for plans with different term lengths. All Ohio electricity customers should read and understand the terms of service and contract summary for any plan they are interested in before they sign on to the plan.
What are early termination fees? Switching retail suppliers before a contract ends can involve paying early termination fees. These can bite you if you want to switch retail providers before your electricity plan contract ends.
Compare Toledo Edison Rates
Electricity Out? Wires Down? Here's who you contact
Having some kind of problem with your Toledo Edison Electricity? Here's the proper people to call:
Unpaid Bill? - You want to contact Toledo Edison. If you have trouble paying your monthly bill call Toledo Edison's Customer Service: 1-800-447-3333
You have 3 options to report outages or downed powerlines in your area:
Call 1-888-LIGHTSS (1-888-544-4877)
Text OUT to 544487 (LIGHTS)
All power transmission lines are extremely dangerous! Never attempt to move a downed power line by yourself. Call 911 and then notifiy Toledo Edison!
Why is there still no power?
You can track outages on this map as they are being repaired.
Toledo Area Electricity Providers
Zip Codes with the Cheapest Electricity Rates in Toledo